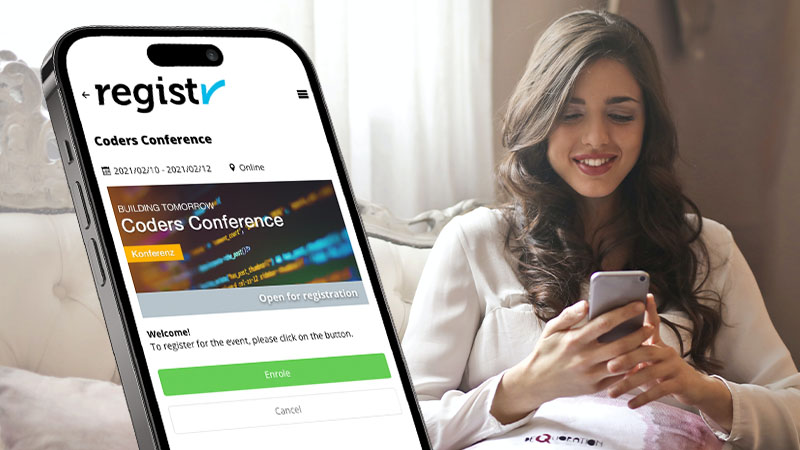 registr, the already well-known and respected tool for event attendee registration, has taken a big step forward. By collecting customer feedback and internal reflections of our team, we are in the process of expanding registr into the ultimate tool for attendee management.
Our development introduces numerous new features that will make your event management and working with registr more effective and convenient. In addition, these enhancements bring with them a number of smaller innovations. Today we would like to present you the six biggest innovations.

Accountless registration
We have simplified the registration process. Your guests no longer need to create a separate account. Registration is simply done via email address. This makes the registration process much easier for your guests and can increase the participation rate, as potential participants are not deterred by the need to create a new account.

File upload for registration
You can now upload files that will be available to your guests when they sign in. This is ideal for PDFs, lists, images, videos, and more. This allows you to deliver important information and materials directly to your guests, improving communication and ensuring all attendees have the resources they need at their fingertips.

Easy guest list editing
You now have the ability to manually adjust individual or multiple guest list entries if desired. This feature gives you greater control and flexibility in managing your guest list, which is especially useful when details change at the last minute.

Guest list import for updates
Update large amounts of data simply by importing an Excel spreadsheet. With this feature, you can save time and reduce errors by easily updating large amounts of data at once, instead of having to tediously make each change individually.

Dynamic filtering of the guest list
You can now filter the guest list by multiple criteria, such as results of questionnaires, and export the results. This allows you to effectively segment and analyze your guest list, which can lead to better insights and decisions. This is also particularly useful for post-event evaluation.

Accompanying persons registration
Your guests can now specify an accompaniment, which is recorded and displayed separately in the guest list. This feature enhances the experience for your guests by allowing them to register companions and ensures that you have accurate numbers for event planning.
With these groundbreaking enhancements, registr underscores its position as the #1 provider of attendee management. Our commitment to simplifying and accelerating our customers' event management is unwavering. We are proud to take another step towards efficiency and ease of use with these new features. With registr, we are committed to making your events a memorable experience.
You can find an info sheet about registr's summaries in our whitepaper section. There you will also find a presentation of registr to get all important information about it.
For more information on registr, please visit our website at www.registr.de or contact us and we will address your concerns directly.