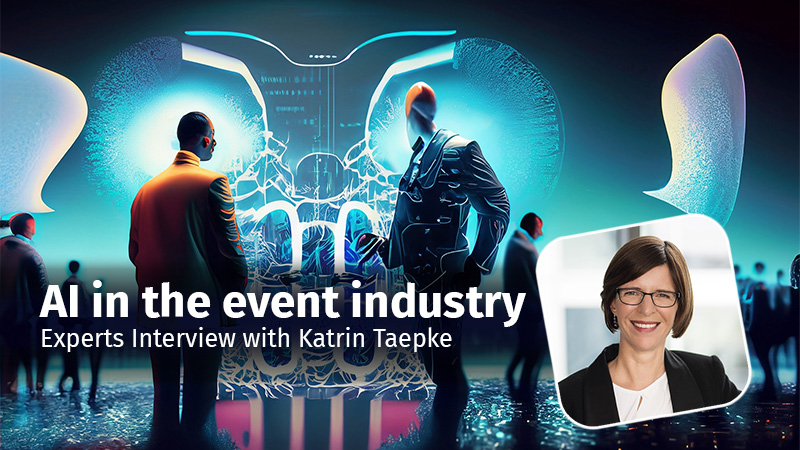 The event industry is undergoing an exciting transformation, marked by advancing digitalization and the emergence of new technologies. One of the most promising technologies gaining importance in this process is artificial intelligence (AI). AI systems make it possible to automate complex tasks, analyze data and make intelligent decisions.
The incredible development of AI tools, which we have been experiencing since the beginning of the year, makes it easy for anyone to access them. This makes it easy to manage certain tasks with the help of AI. But what tools are there, how do you use them, and what are the pitfalls? In our blog post, we shed light on this topic and invited Katrin Taepke, an expert in the event industry, for an interview.
What is Artificial Intelligence?
Artificial intelligence, or AI, refers to the ability of machines to simulate human-like thinking and learning. AI is based on algorithms and models that enable computers to analyze data, recognize patterns and make intelligent decisions. There are various forms of AI, including machine learning, neural networks, and deep learning.
The applications of AI in the event industry are extremely diverse and have been used for decades. AI can help analyze and process data, make personalized recommendations, automate decisions, and handle complex tasks more efficiently.
Although AI has been in use for a long time, the boom of AI tools like ChatGPT has taken the society by storm. With easy access to these tools, everyone is now able to use AI tools to take advantage of them. There are enough use cases for it in the event industry as well.
AI in event planning
By using AI-based tools, event planners can save time and resources and increase their efficiency. Text-based AI tools can speed up the creation of greetings, push messages or emails. They can also be used to create images, videos, music and even entire presentations.
However, caution should be exercised. Do not rely 100% on an AI tool to understand all your intentions and realize the content the way you want it. You should check the content created and ideally only use it as a foundation to build on. Artificial intelligence especially likes to mix up facts and can cause confusion. So be careful that a fictitious CEO is not suddenly invented and announced by your AI program in your company's welcome speech.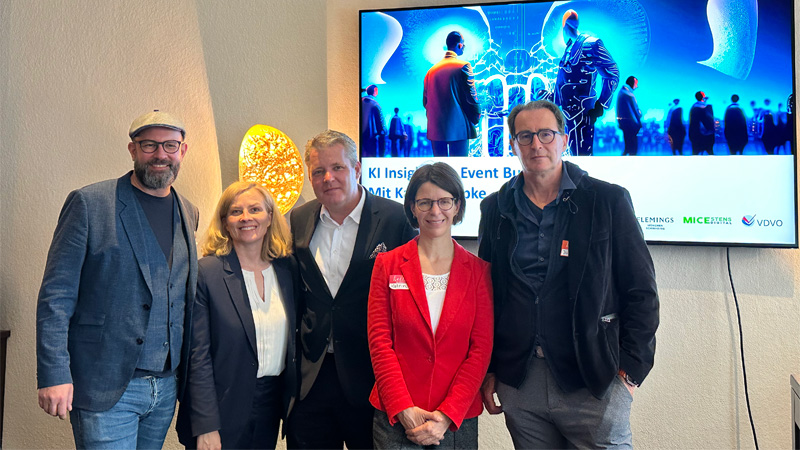 VDVO Business Lunch on AI in the Event Industry
As an important part of the current discourse in the event industry, our CEO Jürgen Mayer, Regional Director of the Southern Region in the VDVO (Association of Event Organizers), organized a business lunch on this topic. There, after a presentation by Katrin Taepke, the topic was opened for discussion.
Katrin Taepke skillfully led the audience through the possibilities that AI opens up for the event industry. Based on a fictitious toy fair, all conceivable planning steps were realized with the help of AI tools. It quickly became clear that searches for a trade fair title and the relevant SEO keywords are well managed with the help of AI tools. When it comes to querying whether the proposed title is trademarked, KI does not yet offer any help, as not all databases can be accessed.
Further research topics like logo for the event, keywords, social media hashtags, which had to be served, Chat GPT could help quickly. Also with the topics of key visuals, jingle and a short video clip creation.
A website was also created with Mixo. Here the result was rather uneven.
Images for the website were created using Midjourney, Stable Diffusion and Neuroflash. Again, the result was impressive at first glance. At second glance, however, the images do not always appear entirely coherent, was Katrin Taepke's conclusion.
Even a marketing video for the toy fair was produced as well as additional jingles. Image to text was also used, using the example of exhibitor lists in pdf, which were converted into simple text lists. The topic of voice cloning and translation into several languages came up as another possible application. Finally, she presented tools such as Casablanca, which can be used, for example, to improve eye contact during video conferences using AI.
In addition to many exciting conversations and interesting ideas, the participants left this event not only better informed, but also inspired. If you are interested in such topic talks or an exchange within the industry, we recommend a membership in VDVO.
Interview with Katrin Taepke: Insights and expert opinion
Katrin Taepke is one of the experts in the event industry. As an experienced event planner, with an impressive career, she accompanied a variety of trade fairs, congresses and events of different sizes. Since 2018, she has been working as a consultant for digital event tools and efficient event management. Her expertise and experience enable her to support companies and event organizers in the implementation and use of digital solutions. This is done through consulting, workshops, lectures and much more.
On her blog (https://micestens-digital.de/), Katrin Taepke mainly shares practical "how-to" knowledge and concrete solutions that she has developed herself while organizing numerous events. Instead of focusing on general trends or press articles, her focus is on practical tips and guidance that help event professionals make their events more efficient and successful.
And it is exactly this expertise and approach that she shared with us in the following interview:
What are the benefits of using artificial intelligence in event planning and realization?
AI can evaluate a lot of data very quickly and generate content. Anyone who has ever sat in front of a blank sheet of paper for the next invitation text, a sponsoring concept or a program structure will be thrilled at how quickly AI tools can deliver an initial proposal here.
What specific areas of application do you see for artificial intelligence in the event industry?
At the moment, it looks like we'll be throwing ourselves into generating content, trade show, congress or event programs, and all communication media around our events for the time being. E.g. marketing texts for the event website, social media posts, written summaries of event talks or podcasts, creation of videos from text commands and more. But it gets much more exciting when we let AI evaluate big data and optimize our events based on it. However, we would also have to know what we want to evaluate, why and with what goal. In practice, this is often not the case.
Which area could benefit the most from AI and why?
The marketing sector is already benefiting today. However, we must always critically review the results that AI provides us. On the one hand, because we ourselves have entered the commands or questions into the AI tools, and on the other hand, because the tools do not necessarily provide true answers. ChatGPT itself, for example, clearly writes on its input page: "Limitations: May occasionally generate incorrect information. May occasionally produce harmful instructions or biased content. Limited knowledge of world and events after 2021".
It will certainly also be exciting if we use AI to scrutinize and optimize event processes. There is great potential here.
To what extent can artificial intelligence help improve the participant experience?
In the first step, planners can ask the AI what they can do to improve the participant experience. The better the question, i.e. the "prompt", is formulated, the better the result will be.
In addition, AI can analyze our event data and identify weaknesses in programming, marketing, execution and other areas. There are already facial recognition tools that can read a person's emotions in addition to their face. Those who analyze this well and derive event optimizations from it will consequently offer better experiences for their participants. While we could already realize this today based on personal observations or survey questionnaires, in the future this can be done faster and for larger amounts of data, i.e. visitor numbers.
Also, think about tools like chatbots that are already answering standard user questions on websites. As AI becomes more powerful, the answers provided by self-learning chatbots will also improve. That, too, enhances the subscriber experience.
How can event planners ensure that the use of artificial intelligence remains ethical and transparent?
A real challenge! After all, on the one hand, it's hard to tell what result is being produced with AI, and on the other hand, it's still humans who feed the AI with data. And if we enter ethically questionable things into a system, the results should also be treated with caution.
What challenges do you see in implementing artificial intelligence in the events industry?
That's where I see the ethical issues we just discussed, among others. Beyond that, AI can turn entire jobs and industries upside down. The question is "How do we deal with that?". How do we manage to transform jobs instead of sending masses of people into unemployment. And against that backdrop, the question is also "How do we manage to bring as many as possible along for the ride?".
What developments and trends do you see in terms of artificial intelligence in the event industry?
Currently, I see the generation of marketing content and inspiration around all event questions. The use of tools that generate texts and thus provide answers to numerous questions, such as ChatGPT, is far ahead.
Which tools currently promise the greatest added value?
Currently, it is mainly the text generation tools. But also the conversion of text to speech, speech to text or speech to another language are exciting. Just think of issues like accessibility here. Because with the help of such tools, people can also follow an event or session in another language or with subtitles. While this is a threat to anyone who has offered such services professionally on the market to date, it is also an opportunity for significantly more event organizers to offer this to their visitors.
Do you use AI tools and if so, which ones?
Especially for content inspiration and generation, I use text-based AI tools like ChatGPT or neuroflash. I find SurferSEO especially valuable. Many other tools, like Midjourney, 10Web, Synthesia, Humantic AI, Mixo, looka and Co. I use to try out how good they already are.
I also like to use Deepl and the Language Tool – although these two do not use AI in my eyes, but work classically rule-based. By the way, I'm looking forward to the first implementations of AI in event tech solutions.
For those who want to be inspired: https://www.micestens-digital.de/ai-tools-fuers-event-management-marketing/