Turning crises into opportunities
Event Apps have benefited from double-digit growth rates in recent years. The drivers are on the one hand the digital transformation in corporations and on the other hand the need for event organizers to bring more efficiency into the event organization and at the same time meet the desire of your guests for improved communication, smart networking and exciting interactions.
This is also the case at plazz AG, with the SaaS offer of the Mobile Event App, the corporate event app solution for 15 Dax corporations and almost 450 b2b customers. Years of growth were followed by the big bang in February with Corona – first in Asia and then on the European market: all event licenses cancelled, no orders received – over night. Analogous to the trade fair industry, the hotel industry and the airlines.
From the beginning of the pandemic crisis, plazz was motivated to look for new ways and to make the best out of the situation. A few weeks after the lockdown in March, it was clear that events could only be held digitally, which is why the Event App solution urgently needed to be expanded to include video streaming and conferencing capabilities. Within a short period of time, the task turned 360° and profound video technology know-how had to be acquired in a very short time to be able to win orders from renowned customers for the realization of virtual events as a serious alternative to GoToWebinar, Zoom, Cisco Webex, Circuit, BlueJeans, GoToMeeting etc.
At the beginning of June – after first smaller tests in May – plazz was able to successfully realize the first virtual event within the Event App with live video streaming and video conferencing together with the pharmaceutical company Pfizer. In the meantime, 7 digital events have been realized for the customer. Pfizer is just one example. Many of our long-standing customers such as McKinsey, Deutsche Börse, Infineon and Schaeffler also make their events virtual or occasionally hybrid. At plazz, incoming orders again reach heights that exceed the figures before Corona came on board. While event technology was a "nice to have" for live events before Corona, it is now an elementary one for hybrid and virtual events.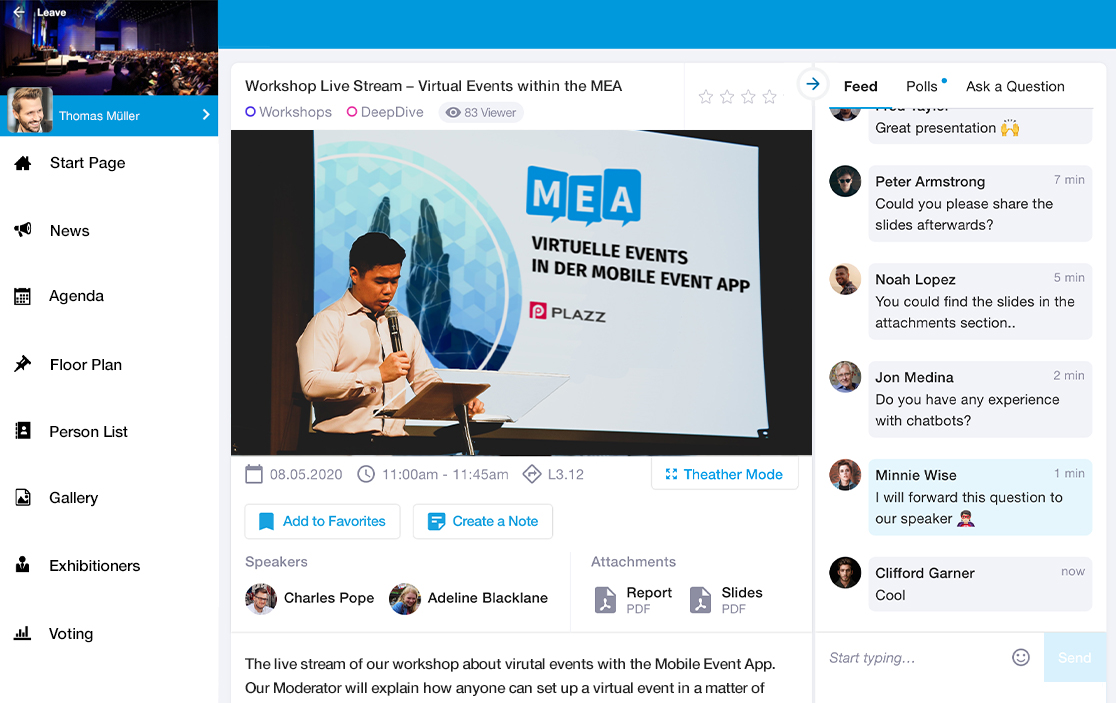 ---
Seizing opportunity
The pandemic-related cancellation of conferences and meetings has also brought completely new players onto the market. Hopin, for example. Hopin was founded at the end of 2019 as a startup that operates online events and was able to collect so much money from investors (VCs, business angels, institutions), especially Accel, that the startup was valued at around 350 million dollars in enterprise value. Meanwhile Hopin scattered voices that further investment rounds are being negotiated, which would value the one year old company with a valuation of 2 billion USD. In comparison, the market capitalization of Zoom, for example, is around 160 billion USD.
Blue-chip investors from A-Z are jumping on the Event Tech market in large numbers. For the first time in the history of event technology, a number of virtual event platforms are bringing in financing rounds of more than $30 million – and are likely to grow even bigger.
The fact is, the pandemic will continue to affect our lives in the future and the only certainty seems to be virtual events. No wonder that the tech investors want a piece of the pie.
Zoom single-handedly drove the growth of the entire sector in the first months of the pandemic. Some of the incredible figures:
$186 million profit for the quarter ended July 31 compared to $5.5 million for the same period last year
600 percent increase in share values in 2020
During last week's annual Zoomtopia event, Zoom announced a new event marketplace and the ability to charge for events. Similar to Hopin, Zoom also wants to become a platform company for events (marketplace model), but certainly not for larger professional events for the time being. The pure self-service approach of Zoom and Hopin is currently popular with longtail event organizers.
With its event app platform, plazz primarily serves corporations where support, consulting and only then self-service options are important. More individual design options of the platform and not just changing color values, but also playing out content to different groups of people (departments/regions, etc.) or premium functions such as quizzes, gamification or matchmaking  and, above all, DSGVO-compliant data security standards are also fundamental, preferably with hosting in Germany.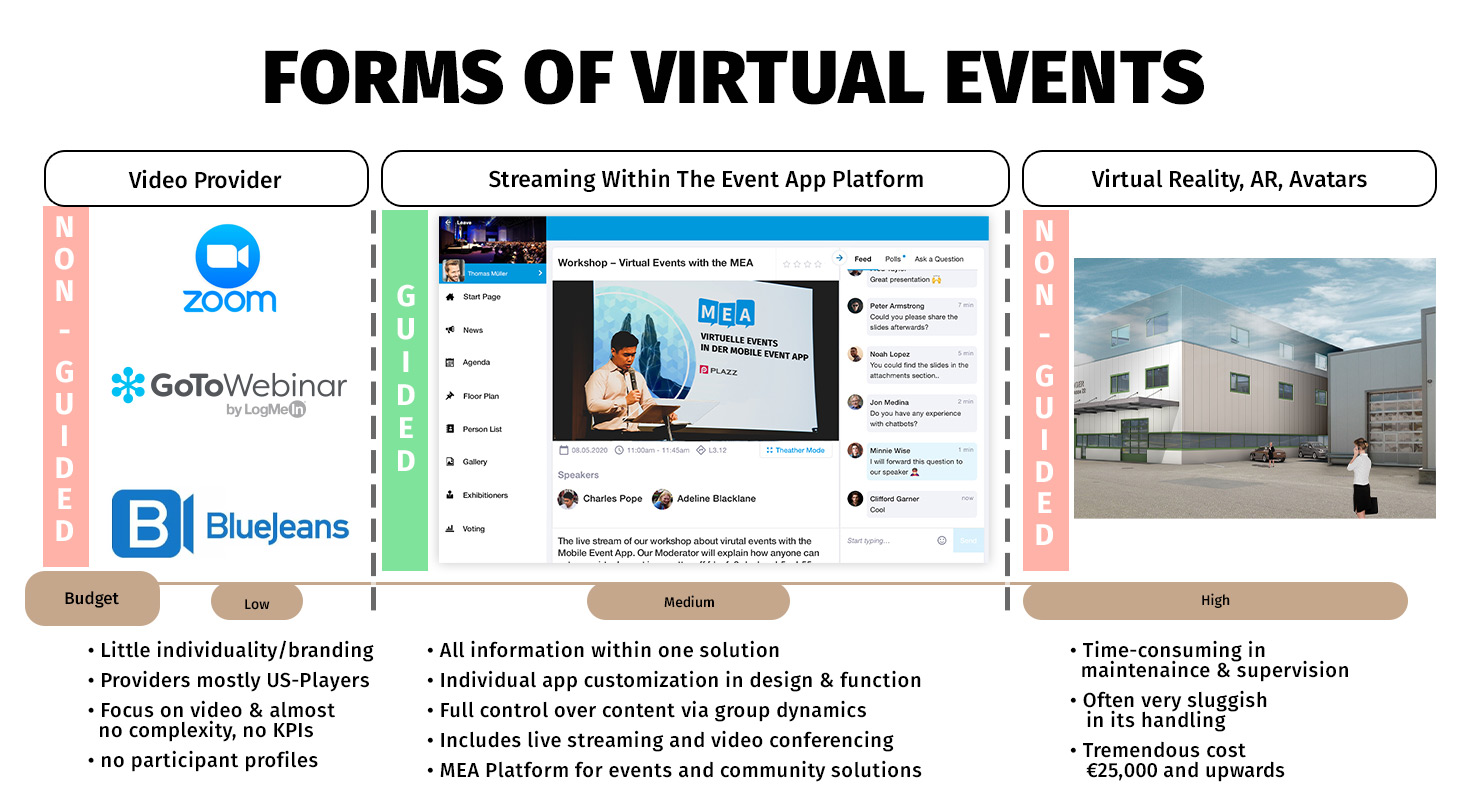 ---
More financing rounds for virtual event platforms are coming
It is clear that we are only at the beginning of the revolution regarding virtual events. Remote is the new normal. In view of the ongoing pandemic and the situation that many investors are sitting on high liquidity, further financing rounds are to be expected. This is not just speculation, it is certainty. If demand and development continue at this pace, the market for virtual event technology has the potential to grow exponentially.
Before Corona, the German event market was the second largest market in the world, measured by its economic dimension. It is therefore obvious that the potential for virtual events in Germany is hardly likely to be less than in the rest of the world.
Many developments in the virtual world are still in their infancy, from today's perspective probably where Facebook 2010 stood. Event organizers need more flexibility and customizable features, conference and meeting organizers strive for a higher ROI of their event and many KPI's, participants expect more effective networking and business contacts. The bottom line is that a lot will happen in the coming years. Advantage for the platforms, which offer a modern, scalable architecture. This is exactly where plazz and its products come into play. Our modern micro-service architecture allows us to scale our systems quickly and flexibly, and to extend the functionality of our products. In connection with an open, fully RESTful implemented API, we offer extensive integration and extension possibilities. A marketplace for third-party add-ons is also planned.
Quick Facts about plazz AG
SaaS modular system -> Mobile-Event-App.com & Mobile-Employee-App.com
Offers the user a modular No Code System with over 40 functions and individual design options
Complete solution for events: pre-event page, participant registration, check-in solution optional with badge print and virtual event platform (event app solution for iOS, Android and web app)
2 locations: Munich sales and strategy, Erfurt development and operations
Team of 40 permanent employees, continuous profitable sales growth over the last 5 years
Customer list with 15 Dax corporations and about 400 b2b enterprise customers
Growth areas: virtual event market, international sales, virtual general meetings, mobile employees & community apps
---
Further information about plazz AG can be found on the corporate homepage
and on the product pages mobile-event-app.com and mobile-employee-app.com.