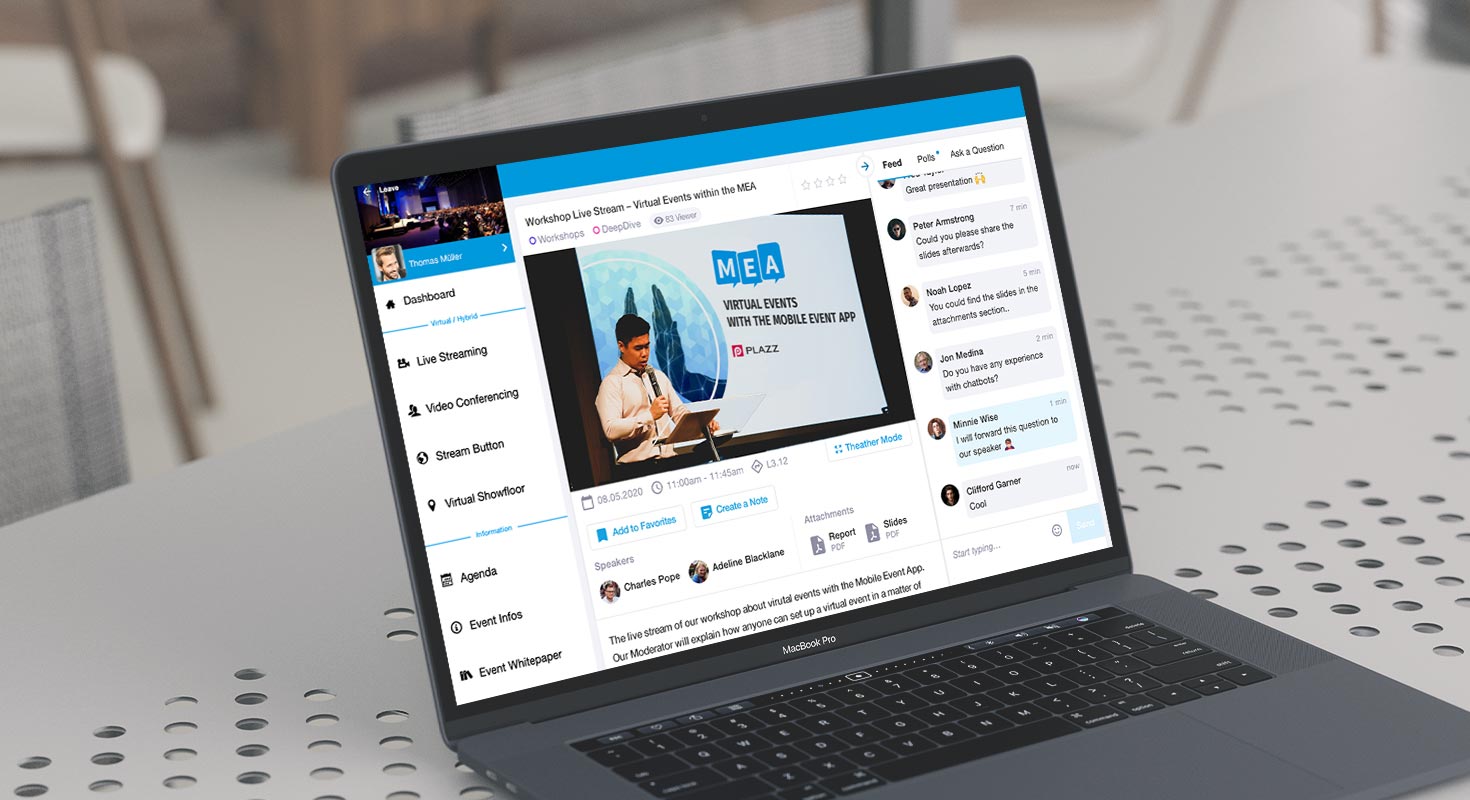 New in MEA Update 2.69
Update 2.69 of MEA introduces new options for event managers in terms of live streams to allow more control over their own events.
Session Chat & Live Stream Participants
With the introduction of update 2.69, agenda items with session chat will be extended to include the option of whether anonymous users can participate in the chat or whether they are prevented from doing so. Previously, all users, whether visible or invisible, could communicate in the chat. In the CMS, the organizer now has the option to allow only logged-in people to chat or also to allow anonymous users to do so.
For more control over the presented content, the display of the number of live stream participants can be shown or hidden. This configuration is set in the respective agenda item of the live stream via a checkbox.
Expansion Of MEA Tracking
With update 2.69, significant progress has been made in terms of tracking. Even though the new tracking feature is still in the final stages of development and will be released in a later update, we would like to share some initial information about it already.
Under the future menu item "Tracking", general metrics on user behavior will be collected and clearly presented. Examples are calls to the agenda item, questions asked or session messages. This information will be collected per agenda item and can be used for further processing via a personalized Excel export.
We will share more information about tracking in future updates when it will be officially integrated.
---
Are you planning an event? Then our Mobile Event App could be just what you need! Due to the extremely high degree of individualization, every event can be branded in an appealing way. Content and features can be distributed and controlled via user groups. As an event platform, several events can be realized simultaneously over a few days or even long-term as a community solution.
More information about plazz AG can be found on our corporate homepage or our product pages mobile-event-app.com and mobile-employee-app.com.
Please contact our sales team, if you have any questions regarding an offer or personal consultation.